Bedroom Organization – Courtesy of Your Storage Unit Experts
If you want a very organized bedroom, the friendly storage unit experts at Hollywood Storage Center of Thousand Oaks have some ideas for you. Invest in a few of these items for a bedroom that will allow you to exhale and feel the calm after a busy day.
Tip #1: Use The Space Under Your Bed
Out-of-season clothing, belts, scarfs, handbags and more can be stored under your bed. But, you can't just shove everything under there! We love the Whitmor Rolling Cart. It's just the right size and can be easily rolled out and back under your bed.
Tip #2: Organize your Closet
When your closet is clean and organized, it helps create clarity and a positive start to your day. We dug back into our blog archives to find you a deep dive into closet organization that will get you motivated!
Tip #3: Purchase Furniture with Storage
There are so many pieces of furniture out there with great storage. And we should know, since storage is kind of our thing. 😊 From headboards to hampers, finding the best pieces to keep your bedroom clean and organized is just a few mouse clicks away. Some of our faves include:
Caitbrook Storage Bed – With eight drawers and shelves to boot, you'll find this handsome piece of furniture is a work horse when it comes to helping organize your bedroom.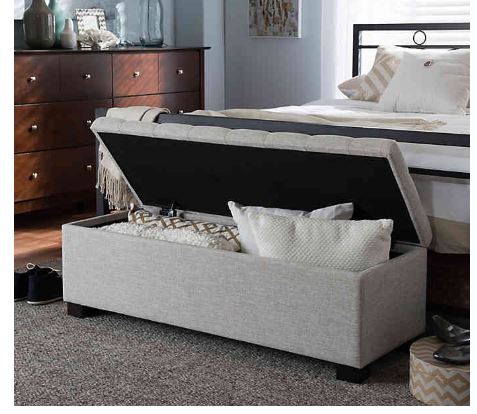 Roanoke Ottoman – Set at the foot of your bed, this stylish piece of furniture does double duty. It's a place to sit while putting on your shoes, and it's a place to store blankets, pillows or bulky sweaters!
Baxton Studio Vittoria Jewelry Armoire – If you love your jewelry, you know it can be a little challenging to keep these precious items organized. But, with the purchase of this freestanding armoire, your worries disappear. We've also seen some really cute ways of displaying your jewelry on walls that are easy on the pocketbook and will clear up your dresser beautifully.
Tip #4: Utilize wall space
Whether you're displaying jewelry, hats, scarfs or other items, using wall space is smart! Here are some of our favorite ideas.
Clothes-pin hat display – Jaclyn DeLeon has great decorating taste and we love how she has styled this hat collection!
Coat-hooked scarfs – Instead of scrunching up your scarfs in a basket or drawer, a cute coat hook can allow you to see what you have while saving space and getting organized!
What else can you do to get your bedroom organized? Other suggestions our team has include:
Stashing a laundry hamper in your closet instead of expecting yourself to take dirty items to your laundry room nightly.
Using a bedside caddy for items you need at your fingertips, such as your cell phone, glasses, journal, etc.
Rolling your clothes to keep your dresser drawers organized.
Removing items from your bedroom that don't belong in your bedroom. For example, your work desk and all those knick-knacks.
We completely understand that sometimes you just have too many things to fit in your home, much less your bedroom. When that's the case, you can rely on Hollywood Storage Center in Newbury Park to have just the right size storage unit for your needs, and at the Lowest Price–Guaranteed!
Now go forth and get that boudoir in tip-top shape! After all, bedrooms aren't just for sleeping. With optimal organization, they can be your sanctuary to relax and unwind from your busy schedule.