Awesome Gift Guide for Guys 2019
Here ya goone of the most requested gift guides of the yearTHE GUYS GIFT GUIDE!!! Guys are always so so hard to buy for and I definitely spend the most time putting this particular guide together. Trying to find a mix of gifts that are functional, practical but still have somewhat of a cool factor when giving them. I had Dan look this one over, too and he gave it .a thumbs up (secretly hoping half of it was his actual list

Mens Gift Guide 2019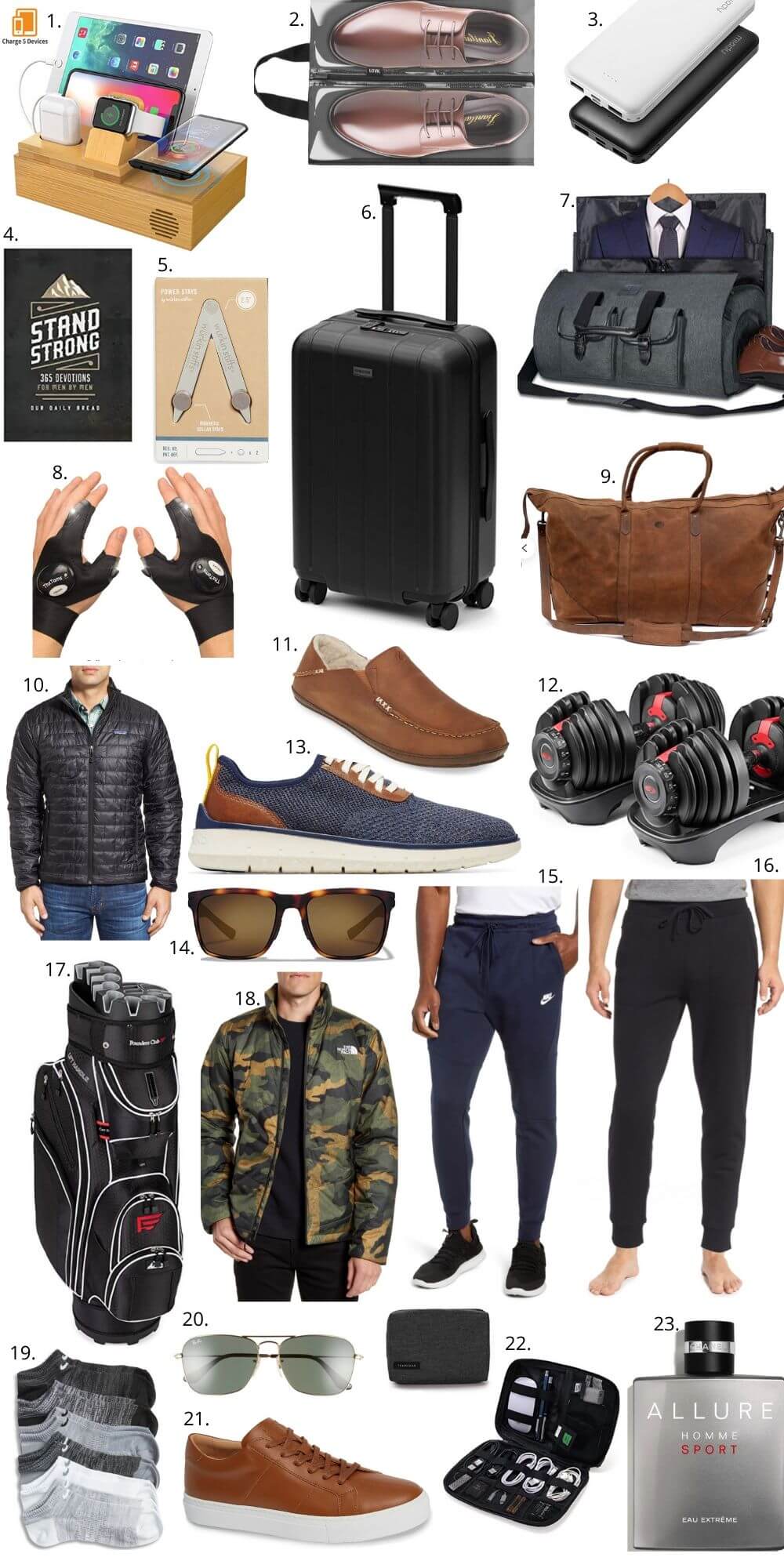 One | Bamboo Apple Charging Dock
Im kind of loving these Bamboo charging stations (I also included one in my Guide for Parents). The idea of everything in one place and no cords strewn all over is awesome for a bedside or a desk and whats cool about this one is that its also a bluetooth speaker!
Two | Shoe Bag for Travel
Traveling with shoes in my bag is just gross. I hate to think about everything on the bottom of shoes (from bathrooms to sidewalks to Lord knows where) they are just GROSS. I like the idea of these clear shoe bags so that they can be separate from your clothes, especially if hes traveling for business with dry clean only stuff.
Three | Set of Two Charging Bricks
Dan and I fight over the one charging brick we own at least once a day. They come in handy when out and about or just sitting on the sofa away from an outlet. These come in a two pack from Amazon and are priced so well, perfect for stocking stuffers!
Four | A Book of Devotions for Men
This is a great book of morning devotions just for men. I feel like so many devotionals are written for women, so this was refreshing. 365 devotions encouraging men to spend 5 minutes with the Lord in the morning and stand strong in scripture.
Five | Magnetic Collar Stays
I include these every single year! One of Dans favorite thingsthese magnetic collar stays give the perfect stiff collar when wearing a suit.
Six | Hard Case Carryon
Dan is dying for an Away bag, but Im having a hard time justifying the price tag. After some pretty in-depth research, this bag from Amazon looks like a pretty good dupe (minus the power source, which I dont find 100% necessary). The reviews are amazing and talk about durability, ease of maneuvering, and how much you can pack in itall wins in my book!
Seven | All in One Duffle Bag
I got this for Dan last Christmas and it was a huge hit!!! He does short business trips often and having to pack a suit and dress shoes without having to completely iron before a meeting is quite tricky. It unzips to be completely so that you can lay suit, dress shirt, etc in it and then zips back up to keep them wrinkle-free and allow room for shoes and toiletries. SUCH A GOOD GIFT!
Eight | Flashlight Gloves
This was the only item on the guide that Dan was confused by, but I think that theyre so cool! You can be hands-free without a flashlight but still be able get light for things like walking the dog at night.
Nine | Worn Leather Weekender
Both my dad and brother have a weekender similar to this one and they use it for years and years. Its a no-fail gift for guys of any age because it looks cool and timeless as it continues to wear.
Ten | Nano Puffer Jacket
One of the best things in Dans closet, he really does wear this thing all of the time. From casual weekend wear, to casual Fridays at the office, he defaults to this jacketmaking it well worth the investment.
Eleven | Mens Shearling Slippers
Dan has some old logo slippers and this is the year that they disappear

Upgrading him to these that look comfy, cozy and discreet.
Twelve | Adjustable Dumbbells for Home Gym
I think that I want this set more than Dan does, but wanted to include it here because I love the concept. You can configure the set to be from 5-50lbs, so they work for nearly anyone in the family. I also love that they are compact, incase you dont have room to house a full 20 set of dumbbells. Not to mention-they are on PRIME!!!
Thirteen | Casual / Dressy Sneaker
Cole Haan updated these and this might be my favorite combination yet! So much so, that I may even go out on a limb and get them for my dad. I know that Dan would LOVE these toogreat with jeans on the weekends.
Fourteen | Tortoise Shell Wayfarers
Dan recently found this brand (known for making awesome sport sunglasses) and got this pair of tortoise shell wayfarers. They are a great fit and have some great features.
Fifteen | Nike Tapered Joggers
Tapered joggers are a hot topic around here (see yesterdays post) and I think that this Nike pair is another awesome, more casual option.
Sixteen | Ugg Lounge Pants
These were on my Mens Gift Guide last year and were an unexpected favorite from you guys! Im still getting messages about how much you guys loved them! They are insanely soft and so comfy and really they dont make too many amazing lounge pants for guys, but these are definitely worth the splurge.
Seventeen | Golf Bag with Club Holders
Dan REALLY needs a new golf bag and the reviews point to this one being one of the best. Its functional, practical and not too over the top, especially for a recreational golfer. It has holders for each club and quite a few side zip pockets for towels and snacks

Eighteen | Camo Northface Jacket
LOVING this camo Northface!! Its great for colder weather and makes a little bit of a style statement.
Nineteen | Athletic Socks
Ugh why do they always need socks??? These are Dans favorite just in case you want to shove a pack in his stocking for a really practical gift.
Twenty | Dressy RayBans
These are some of my absolute favorite sunglasses that look really designer, at a media price point. They are great to wear for guys getting dressed up, giving a sleek polished look.
Twenty One | Greats Sneaker Shoe
These are probably Dans current favorite shoe. More of an investment, but I can see him wearing these for years. They go with anything and can go from casual work days, to date nights to church.
Twenty Two | Charging Cord Organizer
I think this is such a great gift for guys (or anyone really)! Its a charging cord organizer for all of your electronics cords and chargers. Great for travel or everyday organization by your bedside.
Twenty Three | Chanel Cologne
Our fav cologne, quite a few years strong now.
Other Gift Guides:
The post Awesome Gift Guide for Guys 2019 appeared first on Style Your Senses.