8 Cool Concrete Finds You'll Want to Bring into Your Life
Concrete is one material that's always going to stick around – it's fairly inexpensive to use and it can make just about anything, as witnessed in recent years. Every season, designers are pushing beyond what we all think concrete can do and each time, we're proven wrong. From jewelry, writing utensils, and accessories, to candles and planters, we're rounding up 8 cool concrete finds that you'll love adding to your life, whether to wear, use, or simply enjoy around you.
Contour Rollerball Pen by 22STUDIO \\\ $90
There's something about the way a good pen feels in your hand and this concrete one has some weight to it which helps to write more accurately. Not only is it a pleasure to write with, the ribbed concrete design also stands out lying on a desk or standing up on its end.
Chimera #1 Brooch pin by Material Immaterial studio \\\ $129
This concrete pin makes a bold, architectural statement either on a lapel or as a necklace pendant. The three-dimensional nature of the piece creates intriguing lights and shadows that will make your mind start to imagine the design at full-scale.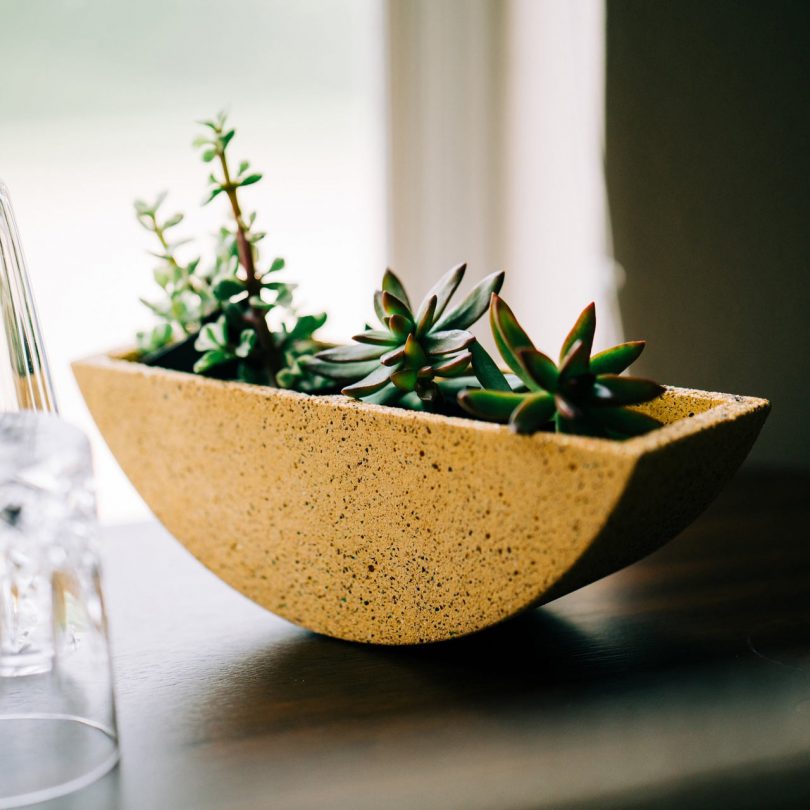 The Totter Planter by Pretti.Cool \\\ $65
This concrete terrazzo planter will teeter and totter your plant into a stress-free life with it's curved bottom design. Available in Cobalt Pebbled Terrazzo, White Terrazzo, Marigold Terrazzo, and Coral Terrazzo, this playful, hand-cast planter will set your favorite plants or succulents up for a happy life you'll enjoy seeing on the regular.
Concrete Fragranced Candle \\ Sea Salt + Sage \\\ Starting at $12
A place can never have enough candles and these made with a concrete exterior with a sea salt + sage scent will more than do the job. Available in four sizes, this candle even boasts a mint green accent on the exterior for an added design detail.
Salle de Bain Medium Concrete Organizer by UMÉ Studio \\\ $305
With a sculptural feel, this functional piece acts as a unique organizer to hold all of your daily essentials. Cast as a single piece to resemble classic bathroom tile, the organizer offers ample space to hold your rings and jewelry, a book you're reading, wallet, and even a small flower stem.
Water Tower 2 Planter by TIIPOI \\\ $90
This unusual planter takes an architectural spin with its form resembling that of an actual water tower found in India, complete with stairs, ladders, and windows. The statuesque design was made after a mold was 3D printed out of silicone and then cast in concrete achieving its brutalist look.
Soap + Sponge Stands by Fruitsuper \\\ $22
Simple and functional, these soap and sponge stands are designed so your soap or sponge doesn't stay wet and soggy when not in use. Available in three shapes – Triangle, Circle, or Racetrack – and in two colors – White or Charcoal – these stands will make hand washing and dishwashing way more pleasant while looking cool on any calendar.
Mondrian Cube Ring by Zimarty \\\ $65
Make a bold statement with this Piet Mondrian-inspired ring featuring a 3D printed frame made of stainless steel. Once the geometric cube is made, it's filled with concrete, cured, and then hand polished for a slight industrial feel.
>>> Want to see more concrete designs you can add to your life? Visit the Design Milk Shop here! <<<