3 Reasons Why the Orbitkey Nest Deserves Your Desk Real Estate
Ive long thought of Orbitkey as the Bellroy of key organizers. When you think about it, its not that big of a stretch. They are both Melbourne-borne and started with a few founders bootstrapping a brand to tackle the monumental task of reinventing a category that has been stagnant for decades.
With three successful Kickstarters under their belt, the team at Orbitkey have now turned their attention from how to best organize your keys, to how to organize your desk. When I first heard of the Nest, I couldnt believe it was from the same team that brought the world the key organizer. But after I got my hands on a review sample, placed next to the Orbitkey 2.0 Ive carried daily for the last four years, the shared DNA between the two was apparent.
After fully integrating it into my workflow, here are a few reasons why I think the Nest deserves a spot on your desk.
---
A Place For Everything
I have a pretty messy desk at work full of peripherals, coffee mugs, and notepads. Despite this, I have always dreamt of having a really minimalist desk where almost everything is hidden. Im not quite there yet but the Nest is really helping the cause. Now, when I get to work in the morning, I place my phone, wallet, and keys on top of the Nest. The organizer sits centered on my desk, just below my monitor and in front of my keyboard, and everythings close by and within reach.
Now, allow me to take a moment to talk about the hinge mechanism, which youll interact with when you want to access the contents inside the Nest. Its an ingenious design which acts as a pivot hinge but also allows you to pull the lid straight up to quickly access the items. When the Nest is in desktop mode, youll want to untether the bungee cord and pull the lid off since the items on top would fall if you were to pivot it open. The rear of the hinge also has a pen loop for quick access.
Digging inside, the Nest holds quite a bit. It comes with five little wall dividers that attach to the bottom of the case with light Velcro. It also includes a cord wrap to keep your cables tidy. Beneath the lid, youll find impossibly thin and slightly stretchy pockets, with enough room for business cards, two SD memory cards, and a thin notebook. Theres also a stretchy mesh pocket which would be perfect for some travel floss or some pills.
Its a versatile piece that will, thanks to the customization, work for most people, easily adapting to whatever you need to store away. All wrapped in a clean, presentable package.
---
Works On The Go Too!
Besides being the perfect desktop organizer and EDC base station, the Nest is also meant to be an on-the-go organizer. When you put away your phone, wallet, and keys, you can secure the top with the aforementioned bungee. Then you can slide a Field Notes or similar notebook inside and away you go.
You can easily grab the Nest and toss it in a messenger bag or briefcase or just carry it stacked on your MacBook when you head to your next design meeting or to catch up with a friend over flat whites. I can see myself packing Post-It Notes and some pens for a retrospective or a stylus for some quick sketches. Once Ive arrived at my new temporary location, I am much more inclined to interact with the hinge by swinging things open. This time, theres nothing on top to impede. I love that the lid will stay open on its own, at a very slight obtuse angle.
Charge Your Phone No Wires
I already had a wireless charging pad at work but its always under a pile of stuff. Now that my phone has a place to live on my desk, it looks so much cleaner. The Nest has a charging pad built into the lid and they even include a nice nylon wrapped USB-C charging cable. The charge operates at 10W granted you have at least a 2A USB port to plug into. This is more than enough for Apples Fast Charging but even if your phone doesnt support it, its still valuable. Considering I am at work most of the day, I actually dont need the speed and prefer a gradual charge just to give me some peace of mind in case I have plans for the evening.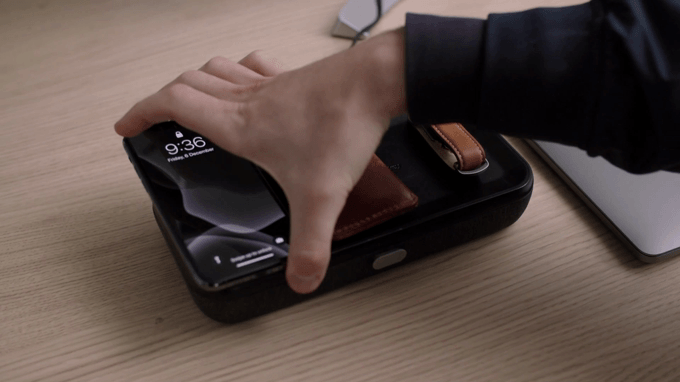 The coil location is perfect, at least for my Pixel 3, which charges reliably when centered vertically on the Nest. Of course since its just a charging pad, you can toss on your Apple AirPods or any small device that supports wireless charging too.
Orbitkey has taken what theyve learned in the past six and a half years developing tools to organize your keys, into a product that helps you organize your workspace, whether its at your desk or mobile. With the Nest, youll find many of the same features that you already love Orbitkey for: elegant leathers, subtle embossed logos, soft touch materials, classy and muted metal hardware, but now reworked into something that will bring greater dimension to their brand and their customers.
And I can honestly say that the Orbitkey Nest is something I see taking residence on my work desk for years to come.
The post 3 Reasons Why the Orbitkey Nest Deserves Your Desk Real Estate appeared first on Carryology - Exploring better ways to carry.