16 Handcrafted and Unique Gifts From Etsy He'll Adore This Holiday Season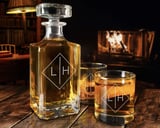 Etsy is our go-to destination for shopping out everything from unique finds to customizable gadgets, artisanal gems, and so much more. The creativity, heart, and soul put into each and every piece that's sold through the online marketplace is just *chef's kiss* perfection. And this holiday season, you can get something personalized for the guy in your life with the retailer's wide array of great Etsy gifts for men. Whether it's a personalized keepsake or a unique gift that embraces his interests and hobbies, there are so many cool things on Etsy for guys that might not be on his gifting wishlist but are sure to surprise and delight him nonetheless. We went ahead and curated the best gifts from Etsy that every man will enjoy and truly appreciate through the holiday season and beyond.
Get him a set of personalized pint glasses or a whiskey decanter set to complete his home bar. Upgrade his daily essentials with pieces that exemplify quality craftsmanship, like an engraved wallet, a luxurious leather duffle bag, or even a monogrammed toiletry bag. Give his work-from-home setup a revamp with cool finds like a custom headphone stand, a multi-charger docking station, or a desk organizer. Regardless of what you're in the market for, you're sure to find some seriously unique Etsy gifts for guys - whether you're shopping for personalized gifts for your boyfriend or unique gifts for other men in your life. Shop these lovely and unique Etsy gifts for men below.
- Additional reporting by Anvita Reddy