15 Crafts That Teens Of The House Will Want To Do
Family night could be a lot more fun by incorporating some time to be creative. Now, we realize saying that to a 16 year-old may get an eye roll or too but that's why we've made this list. Below, you'll find 15 crafts that the teens of the house will actually want to do. Pick one. Grab the supplies. And give them some time to get their hands dirty!
1. Paint Chip Geo Art
For those artsy teens, grab the details at I Spy DIY for this project. This is especially fun for those that want to add a new touch of personality to their room. Do some for yourself and you can create a gallery wall for the house together!
2. Pom-Pom Slippers
Does you teen know how to knit? If not, My Poppet has a project that they can learn with! How adorable are these slippers? They could even make a pair for their friends or other family members.
3. Earrings Holder
If your teen has a big earring collection, this could be a lifesaver! eighteen25 will walk them through it. Clean up those dressers and have your teens find their pairs with ease.
4. Confetti Postcards
There's no way your teens wouldn't want to send out these invites or fun notes to friends! The House That Lars Built will teach them how to create these fun confetti postcards. They're a joy to make and their friends will love receiving them!
5. Turban Headband
A turban headband is definitely in style. Instead of spending an arm and a leg on all the new trends, give you teen the chance to whip up their own new accessories. Curly Made will help!
6. Giant Bow Necklace
Here's another accessory that your teen may want to whip up and include in their collection. Dip it into any color of their choice and use it as a festive piece to wear for celebrations. Find the details at Lil Luna.
7. Modern Organizer
We're loving this contemporary organizer. Bits and photos can be displayed with this fun idea from A Bubbly Life. And what's so great is that you can personalize it with paint in whatever way you like.
8. Copper Jewelry Dishes
We're loving this tutorial from Decor 8 Blog. Not only will they help organize trinkets and jewelry in and around your room but we love this modern addition for style purposes. Learn how to hand make them after the jump.
9. Yarn Ball Bookmarks
Make reading a little more stylish with these yarn ball bookmarks. Design Mom will walk you through this easy tutorial which even the most novice of crafters can accomplish without issues or frustration.
10. Hexagon Wall Accent
If your teen wants a sprucing up in their bedroom, why not think about some DIY wall accents? Give them the chance to treat their walls with Hexagon pieces from Sisters Suitcase Blog. It's quite easy!
11. Ribbon Notebooks
What about creating so me of your own notebooks or journals? Embellish them in ways that they're personalized and special to each. bhg will help.
12. Triangle Photo Frames
Aren't these adorable? Making these and putting their fav photos on display is a fun, unique way to decorate a room. The details can be found at Hello Happy Studio.
13. Cozy Mouse Pad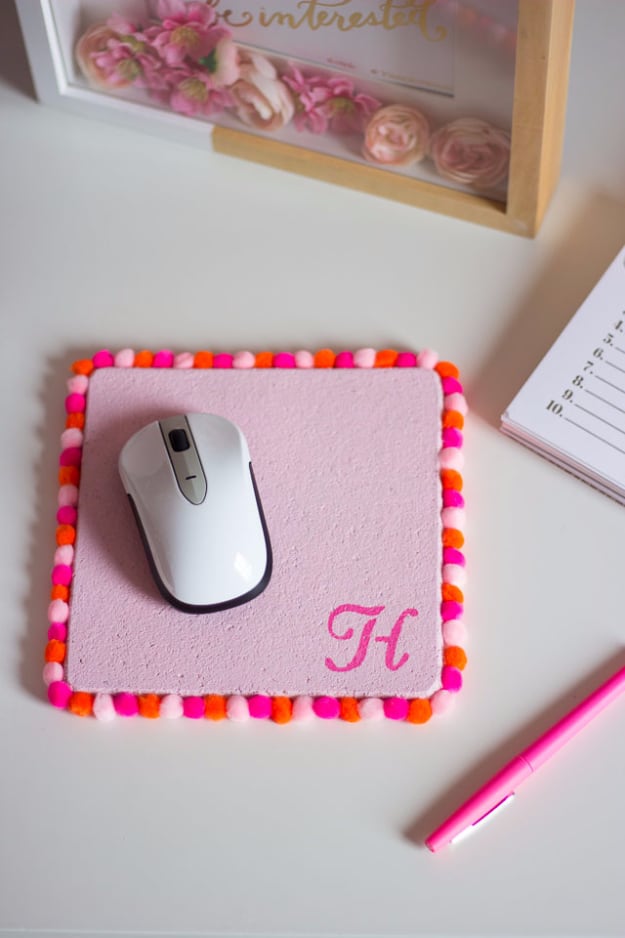 Design Improvised has this wonderful mouse pad featured. Have your teen's work space and homework area a little more cozy with one of these pads nearby. We love the personalization with the initial too.
14. Painted Rope Wall Decor
Damask Love shows us how to create one of these cuties in their room. They can personalize it with the colors they love and feel proud of making something on their own. Again, this would be a great gift for friends and family as well.
15. Cactus Ring Holder
Kin Community knows that cacti are really trendy right now. But what's even more trendy are all the organizational tips floating around. And this combines the two. Your teen would love one of these on their desk or dresser to show off their prettiest rings.
The post 15 Crafts That Teens Of The House Will Want To Do appeared first on DIYs.com.