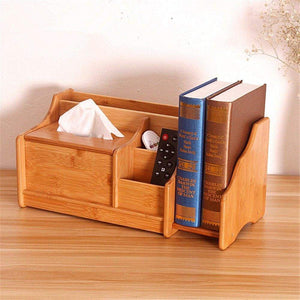 Brand: VolksRose
Color: #Bo5
Features:
User friendly design - Comprised of 5 grids to help classifying your stuff.
Save time and stress - Spend less time to look for where your office documents played up, and more time focusing on other matters.
Multi places uses - Essentially be used on your desktop, bedroom desks and all your home and office uses.
Durable and well made - Smooth, durable, moth proof and anti-bacterial high quality bamboo and great stitching, easy to clean.
Multifunctional - It can also be used to organize your stationery like pens, remotes, devices and as a skin care organizer.
Publisher: VolksRose
Details:
VolksRose bamboo remote controller storage rack keep stuff more organized, compared with plastic and PU leather storage box, it is more healthier and environmental. Offer your life colourful!
User Friendly Design
Handy and Neat: Comprised of 5 grids to help classifying your stuff.
Multi-function, excellent way to reduce clutter!
Keep your TV remote control, air-conditioner remote control, mobile phone and other devices together.
Organize your stationery like pens, calculator, rulers, eyeglasses, magnifier glass at coffee table or as a makeup organizer at bedroom.
Used as a desk-top organizer for office supplies, on a bathroom vanity for toiletries.It is quite sturdy to hold a good amount of cook books and nick-knacks for the kitchen, or anywhere you need a simple storage solution.bringing both function and style to your living room! it's so useful for your life!
Exquisite Selection Material
High quality bamboo, featuring smooth, sturdy and durable, moth proof and anti-bacterial and easy to clean.
stylish and attractive design, best home and office desk.
Technical Data:
Products type: bamboo retractable desk organizer
Material: Bamboo
Dimensions: 30.5 x 18.5 x 18 cm / 12" x 7.3" x 7.1"(L x W x H)
Extended size: 57 x 18.5 x 18 cm / 22.4" x 7.3" x 7.1"(L x W x H)
Weight: 2.1kg / 4.6lbs
Maintenance: Easy to clean. Just clean it with a cloth.(Please do not rinse directly with water)
Package included
1*Bamboo Retractable Desk Organizer
Worry-free Warranty
If you have any questions, or encounter a problem with the appearance or function of our products, please contact us directly. We offer a 3 month warranty replacement for quality issues and a 30-day hassle-free replacement or return within 30 days of purchase.
Package Dimensions: 13.7 x 11.2 x 9.4 inches