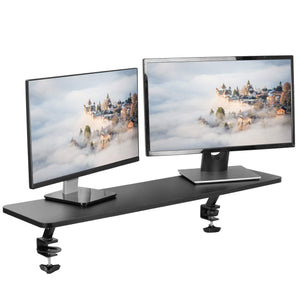 Brand: VIVO
Color: Black
Features:
VIVO MONITOR SHELF SOLUTIONS - We create affordable solutions designed with creativity and quality to transform your unique workspace. This clamp-on shelf gives your desk an additional tier for increased storage space and ergonomic viewing angles.
SPACIOUS SURFACE - Measuring 39.4" x 10.2" x 5.1", this spacious riser supports dual laptop and monitor screen setups with a total weight capacity of 44 lbs. The elegant appearance blends well with virtually any environment.
DESKTOP ORGANIZER - In addition to the added workspace the shelf provides, enjoy limitless storage options in the space beneath (approximately 5.1" in height). Rearrange your desk setup to achieve the organized appearance you need.
STURDY C-CLAMPS - Rest assured that your new shelf and everything on it will be safe and secure with two durable C-clamps providing excellent support. Fitting desk surfaces up to 1.75" in thickness, these clamps make installation a breeze.
WE'VE GOT YOU COVERED - Sturdy steel design is backed with a 3 YEAR MANUFACTURER WARRANTY and friendly tech support to help with any questions or concerns.
Publisher: VIVO
Details: Increase storage space and enjoy comfortable viewing angles with Large Clamp-on Desk Shelf (STAND-SHELF40B) from VIVO! Raise your monitors approximately 5.1" above the desk surface with this trendy 39.4" x 10.2" platform, achieving proper ergonomic viewing angles that aid in good posture and help reduce neck and back strain. Adding a second tier to your desk with two sturdy C-clamps, the shelf creates vertical storage space above and below the riser for increased work comfort and organization. The shelf surface holds up to 44 lbs, allowing room for dual monitor and laptop displays along with small office supplies and decor. All the necessary hardware and instructions are provided for easy assembly, so you can transform your desk layout in no time!

Specifications
Color: Black
Material: Steel, Plastic, Particle Board
Shelf Dimensions: 39.4" x 10.2" x 5.1"
Shelf Thickness: 0.6"
Maximum Desk Thickness: 1.75"
Weight Capacity: 44 lbs
UPC: 818538025477
EAN: 818538025477
Package Dimensions: 43.0 x 13.9 x 6.2 inches