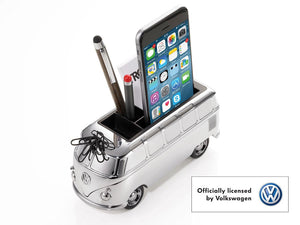 Troika Officially Licensed Volkswagen "Forever T1 Van" Desk Organizer
Troika's VW Bus Desk Organizer is modeled after Volkswagen's legendary T1 Samba Bus, 1962. The "Forever T1 Van" Desk Organizer comes equipped with a magnetized top for organizing paperclips; several slots for pens, pencils, and desk tools; as well as a wider slot for your mobile phone. In case you want to share your supplies with someone nearby, use the VW Bus Desk Organizer's pullback friction motor to drive the vehicle down the desk.
Product Features
Officially Licensed by Volkswagen; Legendary VW T1 Samba Bus,1962
Smartphone holder
Pencil and pen holder
Magnetic top for paperclips
Pullback friction motor
Dimensions: 6.25 x 2.6 x 2.9 inches
Materials: Cast metal, rubber
Weight: 0.84 lbs
Color: silver
Customize Troika VW Bus Desk Organizer
Max engraving surface size: 1.77 x 0.47 inches

Engrave the owner's name, a special message, or promote your business with customized Troika VW Bus Desk Organizers.