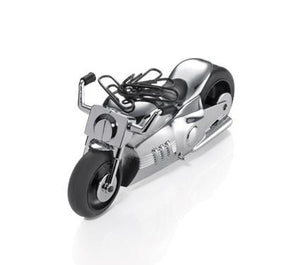 Troika Easy Rider Motorcycle Desk Organizer
Troika's "Easy Rider" Desk Organizer was modeled after the "chopper-style" motorcycles characterized by their very high, angled handlebars. In addition to a magnetized body for organizing paper clips, Troika's Easy Rider is equipped with a pullback friction motor, combining organizational functionality with whimsical interactivity.
Product Features
"Chopper-style" motorcycle paperweight and desk organizer
Magnetized body for organizing paperclips (5 included)
Pullback

 

friction motor
Dimensions: 4.65 x 1.89 x 2.09 inches
Materials: chrome plated with a shiny finish
Weight: 0.35 lbs
Colors: silver/black
Customize
 

Troika Easy Rider Motorcycle Desk Organizer

Max engraving surface size: 0.31 x 0.16 inches


Engrave the owner's name, a special message, or promote your business with customized Troika Easy Rider Motorcycle Desk Organizers.

.