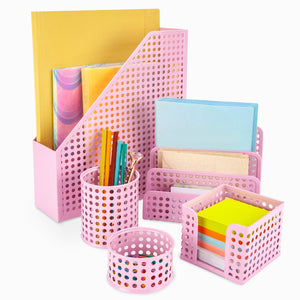 Simple elegance. This pretty-in-pink office organizational set adds an oh-so-lovely touch to any desk, dorm, or office. Keep all of your office goodies within an arm's reach with a matching set. It's the perfect desktop set for turning the 'office slob' into the Queen of Organization.

Never lose an important document again. Trouble finding a pen when you need it? No worries. This magical desk set has you covered. Included are 5-pieces of prime organizational goodies made from high-quality punched metal for an optimal office experience.

Set Includes:

-Business Card Holder
-File Organizer
-Mail Holder
-Pen/Pencil Cup
-Post-it Note Holder

Material: Punched Metal

Color: Soft Pink

We're not saying that this lovely desk organizer is going to get you that promotion you've been wanting but it will help you stay on top of things, which might impress your boss. Place your order for this delightful organizer today, and you'll be glad you did.