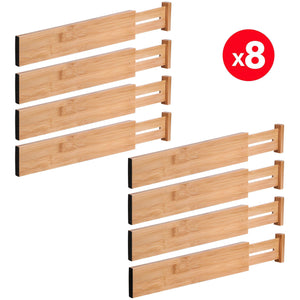 Brand: MoMA
Color: Bamboo, 8 Pack
Features:
BAMBOO ORGANIZER: Each of out wood desk organizers are 17" Long x 0.63" Wide x2.4" Tall. The length can be extended from 17" to 22" and will be suitable for most of your home drawers
MULTI-FUNCTIONAL: These cute organizers can split up your drawer and be a very effective silverware and cutlery organizer , sock organizer, office desk organizer, underwear and bra organizer, dresser organizer, 3 drawer storage organizer and even an effective junk organizer
NATURAL BAMBOO: Our drawer organizer is made with high quality natural bamboo and a sturdy design. The wood is not stained so you can see the wood grains in the organizer. The soft foam tips help against scratching and the springs create tension which will help grip the drawer sides. Installation is a breeze with no hardware required
EASY CARE: Clean our in drawer organizer with ease, just use a mild soap with water and wipe it dry
WARRANTY: We offer you this 8 pack of real wood bamboo adjustable organizers with a 100% satifaction money-back guarantee. If you decide you don't like our bamboo dividers just send us a message and you'll receive a full refund, no questions asked. Select "EvBrands" where it says "Sold By" and select "ask a question", Select " An order I placed", and then tell us about your concern.
Publisher: MOMA
Details:
Bamboo Organizer (Set of 6) 17" Long x 0.63" Wide x2.4" Tall; Set of 8
UPC: 681013502202
EAN: 681013502202
Package Dimensions: 23.0 x 5.2 x 2.6 inches