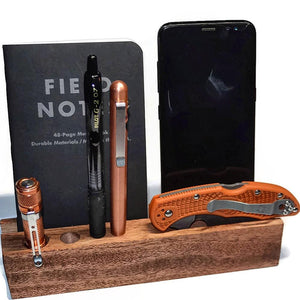 Our first EDC organizer is now available! The Mini Desk Organizer is carefully crafted from a solid block of African Mahogany hardwood. Perfect for organizing your typical carry items including: Phones, pocket knives, wallets, field notebooks, business cards, pens, small diameter flashlights, sharpies, and more!
Features:
Size: 7.5"x1.5"x1.5"
Material: African Mahogany hardwood
Coating: 100% Pure Natural Tung Oil
Please note EDC organizers are made to order and typically ship within 1-2 weeks.