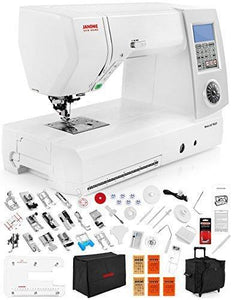 Brand: Janome
Features:
Built-In ACUFEED FLEX Feeding System - This Allows For Superior Feeding of Both the Top and Bottom Layer of Fabric - Perfect For Large Quilts, Fine Fabric and More! / Built-In Automatic Needle Threader - No More Eye Strain! Simply Pull Down the Needle Threader, Place Your Thread in the Hook and Pull Back
Sew Up To a 9mm Stitch Width - Sew at an Incredible 9mm Width (Most Machines Sew at 7mm or Below). All Included Sewing Feet and Many Stitches Built-In are Made to Sew at 9mm So You are Ready to Sew Wide Right Out of the Box! / Easy to Use Control Panel with LCD Panel - The Easy-to-Use Control Panel makes Sewing a Cinch
Included Straight Stitch Plate With Simple Plate Conversion - Included is a Straight Stitch Plate which Gives you a Single Round Straight Stitch Hole for the Ultimate in Precision when Straight Stitching! To Change the Plate, Simply Press Down the Needle Plate Release Level and your Standard Plate will Instantly Pop Up. No Screwdriver Needed!
Comes With an Incredible Amount of Accessories - Clear Acrylic Extra-Large Extension Table, Black Roller Machine Trolley Case w/ Storage Pocket, Black Semi-Hard Machine Cover, Cloth guide, Straight Stitch Needle Plate, Optic Magnifier Set, Dual Feed Foot Holder w/ Dual Feed "AD" 9mm Foot, Convertible Free Motion "QB-S" 9mm Quilting Foot w/ Closed, Open, and Clear-Toe Attachments, ACUFEED Ditch Quilting 9mm Foot, ACUFEED Open Toe 9mm Foot, ACUFEED Quilting Piecing 9mm Foot(Twin)
Also Comes With - ZigZag "A" 9mm Foot, Rolled Hem "D" 9mm Foot, Zipper "E" 9mm Foot, Satin Stitch "F" 9mm Foot, Open-Toe Satin Stitch "F2" 9mm Foot, Blind Hemming "G" 9mm Foot, Overcast "M" 9mm Foot, Automatic Buttonhole "R" 9mm Foot, Darning "PD-H" 9mm Foot, 1/4˝ Seam "O" 9mm Foot, Button Sewing "T" 9mm Foot, Quilting Guide Bar, Bobbins, Spool Holder (Large), Spool Holder (Small), Extra Spool Pin, Needles, Screwdriver, Lint Brush, Seam Ripper, Knee Lifter, Touch Pen Stylus, Instructional DVD
Publisher: Janome
Details: Following the huge success of Janome's MC7700QCP, Janome has taken all the best and easiest to use features, added even more and packed them into one unbelievable sewing machine ... the Janome Memory Craft 8900QCP Special Edition. The sheer length of the arm space is impressive at 11" (280mm) .. ideal for large quilts, bridal dresses and those bigger home furnishing projects. As with all Janome sewing machines stitch quality is a priority. With a Built-in ACUFEED FLEX system for precise fabric handling and an easy change needle plate to enhance straight stitch performance .. rest assured this machine offers spectacular stitch quality. And Janome has increased the stitch width to 9mm! Shadow free lighting is provided by 5 bright white lights whilst quick and easy stitch selection can be made on the large touch screen or keypad. Choose from over 270 stitches including alphabets and numbers, and 11 styles of automatic buttonholes. Memorize a combination of these and save them for future use! Patterns can be elongated up to 5 times standard length. Other special features include an automatic needle threader, a speed controller to set your maximum sewing speed and a stop / start button if you choose not to use the foot control. It also has a needle up / down button which programs the needle to either finish in the up position or in the fabric ... great for pivoting on corners! It has a lock stitch button to ensure every stitch pattern is locked off at the end and even an automatic thread cutter to trim your threads.
UPC: 29882767788
EAN: 29882767788
Package Dimensions: 27.0 x 27.0 x 23.0 inches