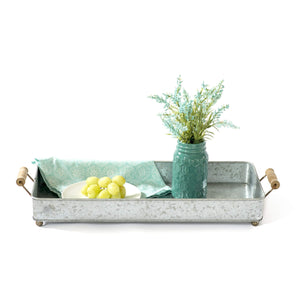 Brand: GRILA
Color: Galv Gray 9147
Features:
✔
GRILA STRONG - Made with sturdy galvanized distressed metal with wooden handles in country farmhouse shabby chic industrial farm style with vintage quality. You will love this tray.

✔
GREAT RUSTIC FARMHOUSE KITCHEN STYLE -vintage farm country art style. This tray has a unique galvanized metal patina finish for that fixer upper use anywhere decor look.

✔
MULTI USE -Use in a variety of places or seasons. Indoor outdoor on a table, for coffee, centerpieces serving dining flower tray, faux or dried florals, Fall or Christmas displays

✔
LARGE CONVENIENT SIZE - 21" length x 8" wide x 3" deep to display or use as a organizational bin. Best value for money, use in a wide variety of places great gift.

✔
100% HOME DECOR SATISFACTION GUARANTEE - don't love it for any reason, easily return it for a full, no hassle refund.

Publisher: GKK
Details: Grila ™ rustic vintage weathered farmhouse kitchen style trays are made Grila ™ tough with high quality metal. This large rectangular tray with elegantly rounded corners, wooden handles and cute round ball feet measures approximately 21" x 8" x 3"
See images for clarification and easy convenient size relation to an average adult - these are nicely sized large trays.
These rustic distressed trays look great:
*Kitchen
*Home Office
* Entryway Organizer
* Living room
* Porch
* By a fireplace with candles
*patio

*deck * Any country, western or farm style house décor.
* Wedding Décor Centerpieces
> * Bar Tray
> * Coffee / Coco Serving Tray
> * TV Dining Tray & more

Our Grila ™ trays, pots, planters and metal containers are great for all uses like; functional trays, decorative home décor trays or even planters. Also great as a gift that is guaranteed to please and look cute!
EASY USE and CLEAN
You are gonna love this tray! - CLICK ADD TO CART NOW.
We have fast shipping from Amazon's warehouse and FREE SHIPPING with Amazon Prime
UPC: 712828118842
EAN: 712828118842
Package Dimensions: 21.0 x 8.0 x 3.0 inches