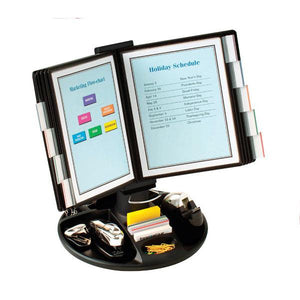 Flip and Find Desk Organizer, Choice of 10, 20, 30 or 40 Display Pockets
Clear up clutter and get organized with this all-in-one desktop organizer. A base with various compartments holds accessories including pens, post-it notes, paper clips and more. Add to this a reference display with 10, 20, 30 or 40 pockets and you have an organizational tool everyone will envy.

Organize your frequently referenced data files and phone lists in these sturdy display pockets. Durable black frames feature clear reference display windows and come complete with index tabs. Designed to accommodate letter size sheets each pocket can show two papers, one on each side.


Pockets swivel independently of the base to position pages where you want them
Heavy metal 14" diameter base plate for super stability
Molded compartments organize pens, post-it notes, paperclips, tape dispenser, stapler and accessories
Chrome handle rotates pages 360 degrees
Choose from 10, 20, 30 or 40 pocket models, each pocket holds two sheets
Simple assembly required
Letter size