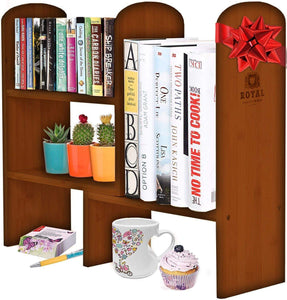 Brand: Royal Craft Wood
Color: Brown
Features:
SAVE SPACE ON YOUR DESK.The desk organizer will help you avoid the mess on your desk, and in the entire house. It also saves space and time because everything you need is easy to find!
A MULTIPURPOSE ORGANIZER. Royal Craft Wood desk organizer is perfect for books but you can also find a spot for spice vases, plants, and even makeup essentials.
ONLY PREMIUM QUALITY MATERIAL. Bamboo is the best material for desk shelves that mother-nature has to offer. Our job is to find the best type of organic bamboo and turn it into an organizer. It has beautiful POLISHED finishing and ROUNDED CORNERS.
VERSATILE AND EASY TO PUT TOGETHER. The organizer will adjust to your wishes and needs. We made it EXPANDABLE - so you transform it into a desk file, a memorable stationary, or a shelf for multiple purposes.
A PERFECT FIT FOR WORKING AND STUDYING. A good fit both for office workers and students. Depending on your purposes, it can be easily transformed into a shelf for books and textbooks or turned into a place for your papers.
Publisher: ROYAL CRAFT WOOD
Details:
Do you want to forget about the mess at your desk, in the room or at the office? Try Desk Organizer!
Organizing your workspace by putting things you use frequently in a special spot increases your productivity and saves space in your room. Royal Craft Wood desk shelf is an essential for people with busy lives - it helps to keep track of things and keep the space clean.
Key benefits:
Premium bamboo quality
Expandable and easy to install
Stylish and good-looking
Durable and made to last
A fit for multiple purposes
Lifetime warranty
BUY ONCE - USE FOR DECADES Even though Royal Craft Wood Desk Organizer is lightweight (5.7 lb only) and compact (5.9"W x 16.5";L x 17.7"H), it's sturdy and made to last. It can handle even heavy books and vases due to the high durability of bamboo.
MADE OF NATURAL ORGANIC BAMBOOThe quality of and durability of organic bamboo makes Royal Craft Wood Organizer last longer and look better. Bamboo is a renewable plant - make a sustainable choice!
A PERFECT GIFTIt's so much more than just an office organizer! It's also a magnificent desk set, a cosmetic shelf, a place for plants, and a spice rack. That's why you can be sure your family member or loved one will use the shelf every day and be reminded of you.
EXPANDABLE AND EASY TO INSTALLRoyal Craft Wood Organizer comes in separate pieces. So all you have to do - is put them together, like a puzzle. That way you can express your creativity and personalize the organizer.
LIFETIME WARRANTYIt's important for us to know you like the products of Royal Craft Wood as much as we do, that's why we are offering you lifetime warranty!
UPC: 738523613789
EAN: 738523613789
Package Dimensions: 18.8 x 6.5 x 3.2 inches