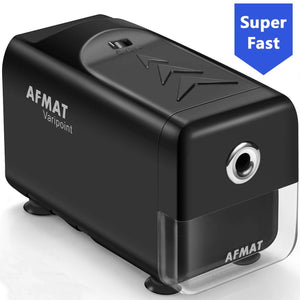 Electric Pencil Sharpener Heavy Duty, AFMAT Pencil Sharpener for Classroom, Auto Stop, Super Sharp & Fast, Industrial Pencil Sharpener for 6-8mm No.2/Colored Pencils, School, Office, Home, Black
---
Product Details
Brand Name: AFMAT
Item Weight: 1.28 pounds
Product Dimensions: 6.3 x 3 x 3.3 inches
Item model number: NA
Color: PS-B05 for classroom use
Material Type: steel
Size: Large
Manufacturer Part Number: PS-B05
Shipping Weight: 1.65 pounds
Date First Available: November 7, 2017
Heavy Duty Pencil Sharpener with UPGRADED Electric Motor With upgraded electric motor, this AFMAT heavy duty electric pencil sharpener is powerful enough to sharpen your No. 2 pencils or colored pencils to a sharp and durable point in only 3-5 seconds with ease. With strong and durable helical blade, this AFMAT pencil sharpener can sharpen over 6000 times. Try it today with the security of our 730-Day (2 Years) warranty guarantee.
Electric Pencil Sharpener with Advanced AUTO STOP Feature This AFMAT electric pencil sharpener will stop automatically when the pencil is sharpened well, known as AUTO STOP feature. It makes pencil sharpening so simple and effective. It will stop working when the shavings box is removed, which makes this pencil sharpener safe for CHILDREN to use.
Electric Sharpeners with 3 Sharpening SettingsOur design has a slide switch that allows you to choose from 3 different sharpness settings: blunt, medium, and sharp. It is fast, powerful, and superior to other helical blade sharpeners. Perfect gift for teachers, students, engineers, children, artists, and anyone who loves to draw! Please don't push the pencil too hard when sharpening, as it will reduce the sharpening times of the sharpener.
Heavy Duty Pencil Sharpener for Classroom Highly effective, fast speed and auto stop, make this sharpener the best choice for classroom. 4 suction cup at the bottom makes it more stable to sharpen. Please note that it is not recommended to sharpen sketch pencils or soft carbon pencils as it may cause jams in blade.
100% RISK FREE PURCHASE This AFMAT pencil sharpener comes with a wall plug, which is easy to use. Try it today with the security of our 730-Day (2 Years) warranty guarantee. Any questions, feel free to contact us at .
AFMAT is specialized in office products such as colored pencil sharpeners, classroom heavy duty pencil sharpeners, drawing pencil sharpeners, desk organizers, whiteboard stickers, blackboard stickers, electric erasers, art erasers, tape dispensers. Our mission is to provide our customers with the best products and services. We put a high value on customers' using experience and suggestions. So we will keep improving our products to satisfy everybody's need. AFMAT heavy duty pencil sharpener-Put the pencil in and ZOOM, it's done! AFMAT Electric Pencil Sharpener Heavy Duty Advanced Auto Stop Feature After you insert a pencil, the pencil sharpener stops. Is it broken? ---No!!! The pencil is just sharpened well and the machine senses it, and then stops. This advanced feature saves your time and pencils. You don't like this feature? We have another heavy duty pencil sharpener which is not auto stop. Check the comparison chart at the bottom. Electric Pencil Sharpener Heavy Duty with Sharp Point Main Features Auto Stop Fast Sharpen Sharpen 6000 Times 3 Pencil Nib Options Packing list: 1 x Electric pencil sharpener with a wall plug 1 x Operating Instruction Instructions 1. Please plug in 120V wall power before use. 2. Be sure that shavings box is closed before using. 3. Slide switch for sharpness selection: Sharp/ Medium/ Blunt. 4. Insert a pencil and push it with a light pressure, it starts to work automatically. 5. The sharpener will auto stop when the pencil is sharpened, which is an advanced feature the xacto pencil sharpener doesn't have. Extra Notes and Warm Tips ✔This pencil sharpener is suitable for wooden/colored pencils between 6.5-8 mm for diameter. Do not try to sharpen crayons, chalk or soft charcoal pencils because they will clog the cutter. ✔Please empty the shavings bin regularly. The pencil sharpener will not operate properly when it is full. ✔Don't push too hard, or the pencil nib will not be that round. ✔To avoid injury from sharpener, children should operate it under the guidance of adults for correct usage. ✔To ensure your safety, please turn off power while clean the shavings box. Read more Industrial Pencil Sharpener & Commercial Pencil Sharpener & Classroom Pencil Sharpener& Office Pencil Sharpener Upgraded Helical Blade Sharpen over 6000 times Adjustable Pencil Nibs blunt, medium, sharp Auto Stop Pencil Sharpener auto stop when sharpened Read more Electronic Pencil Sharpener Plug In Specifications Power: AC power Adaptor Voltage:AC120V.50/60HZ Cutting diameter:6-8mm 3 point options: BLUNT, MEDIUM, SHARP Material: environmental-friendly ABS Noise level : About 45dB Life time: 6000 TIMES/BLADE Weight: 25 ounces Size: 6.5 x 3.8 x 3 inches Read more Non auto stop pencil sharpener Battery Operated Heavy Duty Pencil Sharpener Fully Automatic Pencil Sharpener Colored Pencil Sharpener Long Point Pencil Sharpener Art Pencil Sharpener Power AC Li-ion Batteries/USB Li-ion Batteries/USB/AC Li-ion Batteries/USB/AC Li-ion Batteries/USB/AC Li-ion Batteries/USB/AC AC power 110 V 100-240 V 100-240 V 100-240 V 100-240 V 100-240 V Pencil Diameter <8mm 6-10mm <8mm <8mm <8mm 6-9.6mm