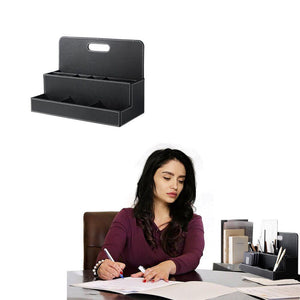 Desk Organizer Indispensable To Keep Your Desk Clear From Small Things

Helps you to keep your desk clear from small things like pens, rulers, mobile phone and USBs.
The surface can withstand sun exposure, scratches and rubbing without losing its color.


Care instructions
Wipe clean with a damp cloth.
Wipe dry with a clean cloth.
Product dimensions
Width: 12 5/8 "
Depth: 6 1/4 "
Height: 9 "
Main part: 100% recycled and laminated cardboard, 100 % polyurethane, Paper
Thread: 100 % polyester