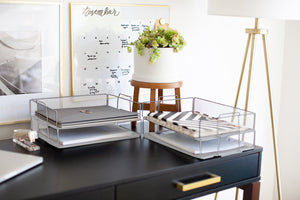 Organize Files and Documents with this Stackable Paper Tray Set
There are many ways to stay organized, but there?s no better way than to utilize stackable trays to organize all your important documents and papers.
Made of strong Silver metal mesh, this inbox organizer will keep everything in order so you can get back to what matters most.
Product Details:
Stackable Set of 3 Trays
1 Smaller Accessory Tray Included
Made of Strong Silver Metal Mesh
Ideal for the Office or Home
Storage for Papers, Files, and Mail
Organizes your Inbox and Mail
Versatile Design
Simple to Use
Makes a great gift for Christmas, Back to School, Co-Workers, College, Students, Kids, Children, Childs, Teens, Boys, Girls, Teachers, Secretary, Reception Area, Receptionist, Birthdays, and more!
Organize Your Office Supplies, Mail and Files with Blu Monaco All In One Desk Organizer.
STACKABLE SET: Looking for new ways to keep your paper tray in order? These stackable trays are the perfect solution to keep you organized and get a handle on your files and important papers along with the included small accessory tray.
STORE LETTERS, DOCUMENTS: When you get bogged down with papers, a letter tray is the best solution. Use this document tray set as individual trays or stack them to maximize your desk space.
EASY ORGANIZATION: We could all use an inbox organizer in our lives as things get busy and we struggle to stay organized. You can get a handle on your inbox with this stackable set on your desk.
SIMPLE, CLASSIC DESIGN: If you want an office inbox organizer that blends in with any décor, this desk inbox organizer is perfect for you. It looks great on your desk with its clean, simple lines and is easy to use.
ORGANIZE YOUR DESK: A messy desk is an unproductive space, which is why this desk organizer is perfect for your home or office. It can also be used as a mail organizer to give you a handle on bills and important letters and documents.