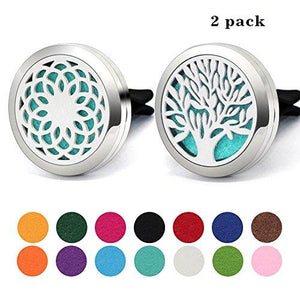 SAVE YOUR MONEY - 2PCS 30MM Simple and stylish car charm!The most quality at best prices! Two styles pendant air freshener with different pattern engraved, alternate to use.

GOOD CHOICE - These are perfect as a mom with kids and pets constantly in your car and the occasional mystery smell.Abbreviation for Jewelry and Aromatherapy,much better than the chemicals.

MORE USES-Just add 2--3 drops of your favorite essential oil to the felt pad, helps you get rid fextra essential oil bottles just lying around the house or car.14 washable different color refill pads.

HIGH QUALITY MATERIAL - Locket is made from hypo-allergenic surgical grade 316L stainless steel for long life and durability. A piece of jewelry made to last a lifetime.

Quality & Service Guarantee- 30-day warranty and always friendly customer service provided by COOHAA.If you have any question or dissatisfaction, please be sure to contact us, thank you.

Color : CC011+019
An Easy Way to Keep A Nice and Pleasant Scent with You in Daily Life. Pros of this item:
1. Unlike the normal diffuser, you can take this necklace diffuser to a place you want.
2. It also has a very classy appearance and style.
3. 14 felt cotton pads to help you distinguish different scents and makes it easy not to mix scents.
4. Pretty package are design for gift set.
Why you need essential oil diffuser car charm?
1. You can clip to the desk organizer at workcar or home
2. For those who working in bad scents environment to keep a good scent with you.
3. You can clip on the window air conditioner in my apartment or clipped them to the heat register covers around the house (Notice: kids and pets,this is metal, so if you have the heat on, it gets really hot to the touch- be careful with little kids fingers.) .
4. Different essential oils can be used to relieve physical discomfort, such as relieving headache, anxiety, insomnia, children's hyperactivity, and attracting the attention to child. You can use lavender oil, lemon oil, mint oil, anti - allergy oil and so on.
5.Easy to use, can change the color with the seasons and holidays, and a few drops of Lavender or Calming Blend e.oils is great for dealing with traffic anxiety.For those of some with athletes in the family, it is a great way to make the car smell a lot better!
FAQ:
Q: How many drops of oil will need to add?
A: It depends on whether you need a delicate or strong scent with you. Usually 3-5 drops will be enough for a whole day.
Note: 1.Please use a soft cloth to keep the diffuser locket clean.
2.Make sure to take the thin plastic coating off of the top piece.
Product Specifications:
Diameter: 30mm
Package Included:
2 x Diffuser locket
14 x Refill Pads