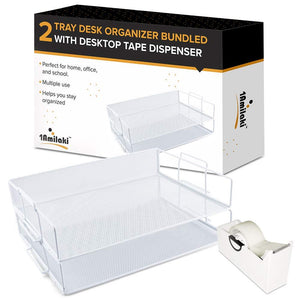 2 Tray Office Desk Organizer and Tape Dispenser-White Metal mesh

âœ"ï¸ Double tray desktop organizer to help organizer all your paper, document, mail, note, and much more.
âœ"ï¸ Stackable double trays
âœ"ï¸ Made from stainless-steel wire mesh
âœ"ï¸ Created for school, home, and office use
âœ"ï¸ Made just for you to stay organize
âœ"ï¸ Inbox for documents, mails, letters, files, and office accessories
âœ"ï¸ No tools needed.

Product Features
✅Sturdy white steel mesh construction.
✅Easily assembled horizontal stackable trays - no tools needed.
✅Organize all your letters, paper, documents, mail, magazines and much more.
✅Dimension: 14.5â€L x 10.8â€W x 6.2â€H gives you plenty of space to store your files folders and other and desk accessories.