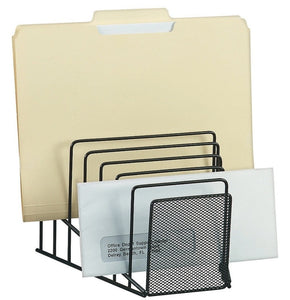 1InTheOffice Incline Desktop File Sorter, Black Wire Mesh Step Sorter
Your papers and important files have a way of piling up and making your desk look cluttered and messy. Plus, it makes it hard to locate the documents you need when they're strewn about on your desktop. Maintain organization and keep your work space efficient with the 1InTheOffice Mesh 7-Slot Desk Organizer.

Expertly crafted using sturdy, steel mesh construction to supply long-lasting strength, this practical accessory will provide many years of continuous daily use. Steel is a stable and rigid metal that won't fray or unravel, highly durable to withstand vigorous use over a long period of time.

In addition to durability, this storage unit boasts a smooth surface and an excellent aesthetic appearance that can be easily incorporated into any existing office or cubicle decor. Offering a simple and elegant, industrial look, it will add both style and function to any work environment.

This organizer makes it easy to slide papers and folders in or out to increase your efficiency and productivity. Seven upright sections set at an angle can help you organize your day-to-day work, perfect for storing binders, folders and paperwork. These wide, 1-inch slots provide sufficient room to create an organization system that works best for you, allowing you to keep workday essentials at the ready and keeping your desk neat and organized.
Product Features
7 compartments desk sorter
READY TO USE. Fully assembled so you can use the organizer right out of the box, you can finally organize the important documents, papers, folders, notepads, magazines and files that have been piling up. Keep files upright and visible at a glance in a smartly sectioned space to call their own.
Easy filing and viewing of paperwork
step design to keep all projects visible