'You're Worth Every Penny' Card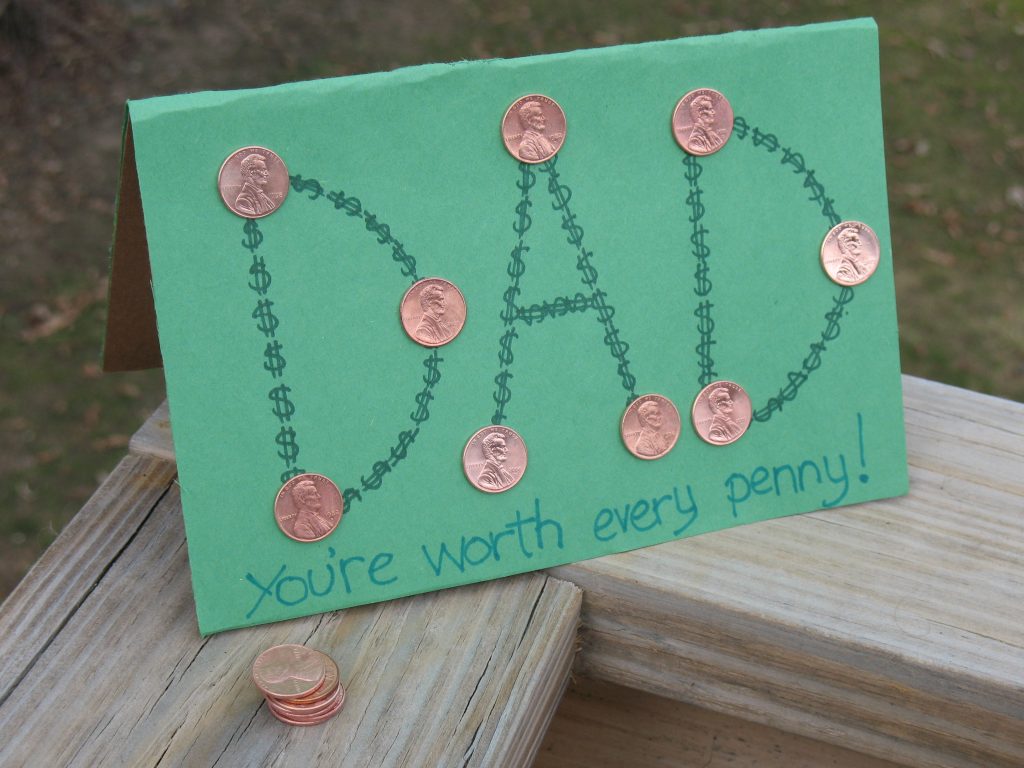 You're Worth Every Penny Card
This fun-ancial card is great for any dad, but it's especially appropriate for bankers, stockbrokers, or accountants!
What You Need:
8" x 10" piece of light cardboard (cereal box, etc)
1 sheet green construction paper
9 shiny pennies
green fine point marker
pencil with eraser
blue fine tip marker
scissors
white craft glue
glue stick
How To Make It
Use glue stick to attach construction paper to the cardboard. Trim off excess if needed.
Fold in half like a greeting card so that construction paper is on the outside.
Use pencil to lightly write "DAD" across the front of the card, leaving about 1.5" space underneath.
Use green fine point marker to draw dollar signs on the letters. Erase any pencil marks that might show through.
Use white craft glue to attach a penny to each corner of the D's, where the curve meets straight lines, and at the center of the curve. Glue a penny to the top of the letter A, and two at the bottom.
Write "You're worth every penny!" underneath "DAD" with blue fine point marker.
Helpful Hints
The pennies add quite a bit of weight to this card, so even cardstock or poster board is not sturdy enough. Be sure to use the cardboard or your card will not stand freely.
For even more financial fun, glue a dollar bill to the inside of the card and glue your picture in place of George Washington's!
For a lightweight card, make photocopies of the pennies and cut them out and glue them on, instead of the real thing.
This project was created by Amanda Formaro, originally for Kaboose/Spoonful.
The post 'You're Worth Every Penny' Card was featured on Fun Family Crafts.