Getting Your Little One Ready For School With ABC Reading Eggs
My baby is off to school next year. My youngest of three will join her sisters at "big school" and it's exciting and sad at the same time.
This year she's been attending preschool and has come ahead in leaps and bounds, both in terms of learning new things and developing new skills as well as the social aspects of making friends.  She's had such an amazing time at preschool I'll be sad to leave it behind, although I am excited about what her future will hold.
When she's not at preschool, she's always at me to do arts and crafts with her, read stories and practice her counting and the alphabet, which we have fun doing.
I was stoked to find out recently about the ABC Reading Eggs School Readiness campaign aimed at getting little ones who are starting school next year a head start on their reading.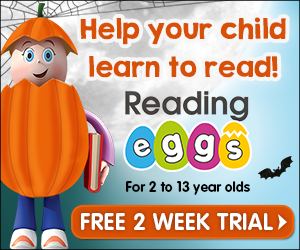 If you haven't heard of ABC Reading Eggs before, it's an amazing online program that helps kids learn to read by making it fun, engaging and interesting. It does this in a number of ways through structured online lessons, reading games and e-books. The kids earn golden eggs as they progress through the program, which they can "spend" in an online store and do things like decorate their own house and personal avatar. You know kids, they love that stuff.
I knew about ABC Reading Eggs already because our school uses it and my older kids have loved it. So I was excited to get the youngest one on there and on her way.
The School Readiness Program is aimed at new readers – kids 3 and over – to help get a head start before they go to school. It's been developed by primary school teachers with more than 30 years of experience.

It is so easy to get access too. ABC Reading Eggs works on PC, iPad and Android Tablets. Miss Four was completely rapt, and not just because she was able to play on the real computer (she normally "catches Pokemon" on a cardboard computer she whipped up at preschool).
I know what we are going to be spending our time doing until she starts school!