2020-2021 Homeschool Lesson Planner PDF
2020-2021 Homeschool Lesson Planner PDF is a post from Confessions of a Homeschooler. If you've enjoyed this post, be sure to follow Erica on Instagram, Twitter, Facebook, Pinterest, and Google+! Also be sure to stop by her Community to join the discussion or her Store to see her latest items!
Hi everyone! It's time for the new 2020-2021 Homeschool Lesson Planner!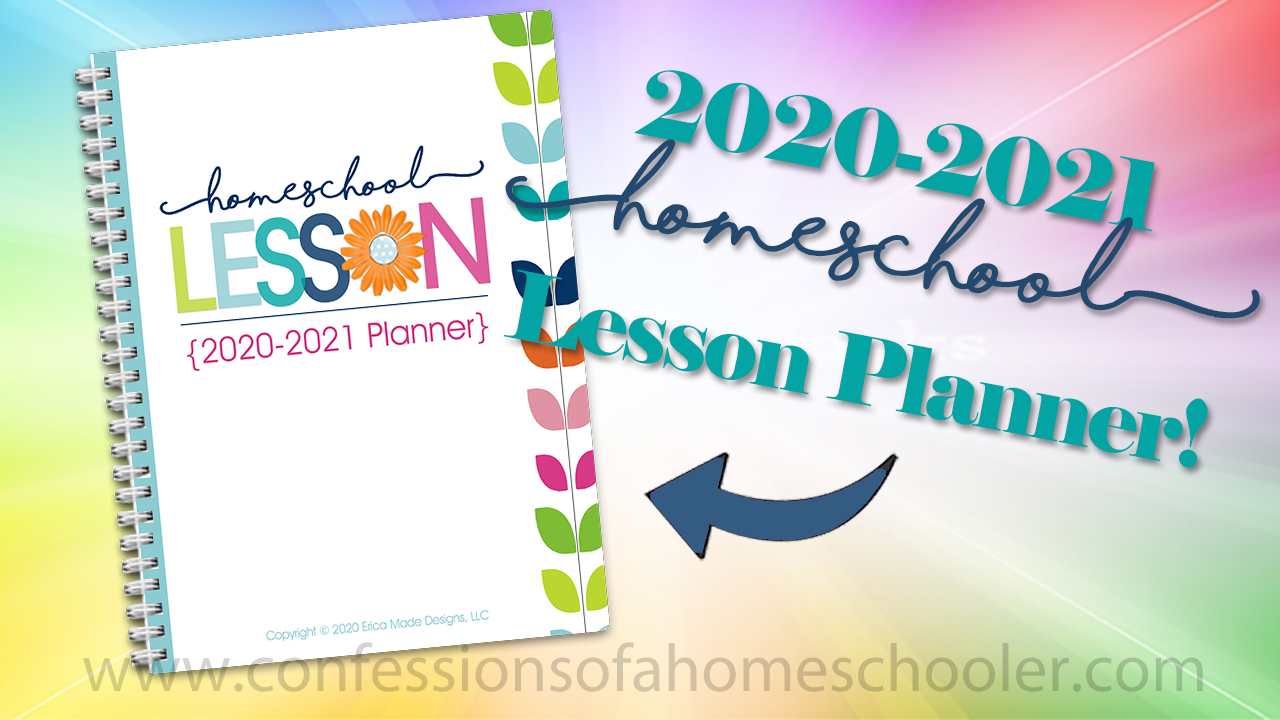 This planner is specifically designed for homeschool or classroom lesson planning to help you keep track of daily assignments, grades, reading, and any appointments or activities that you might need!
You can use this for your own teacher lesson planning, or for your students to help keep track of assignments, grades, reading, and any appointments or activities that you might need!
NOTE: This planner is a download and print type planner, it is not editable via computer at this time, sorry!
What's included?
This planner includes colorful weekly planner pages for the July 2020 – July 2021 school year. This planner is 8×10 portrait format for easier printing and binding. It includes 164 pages total.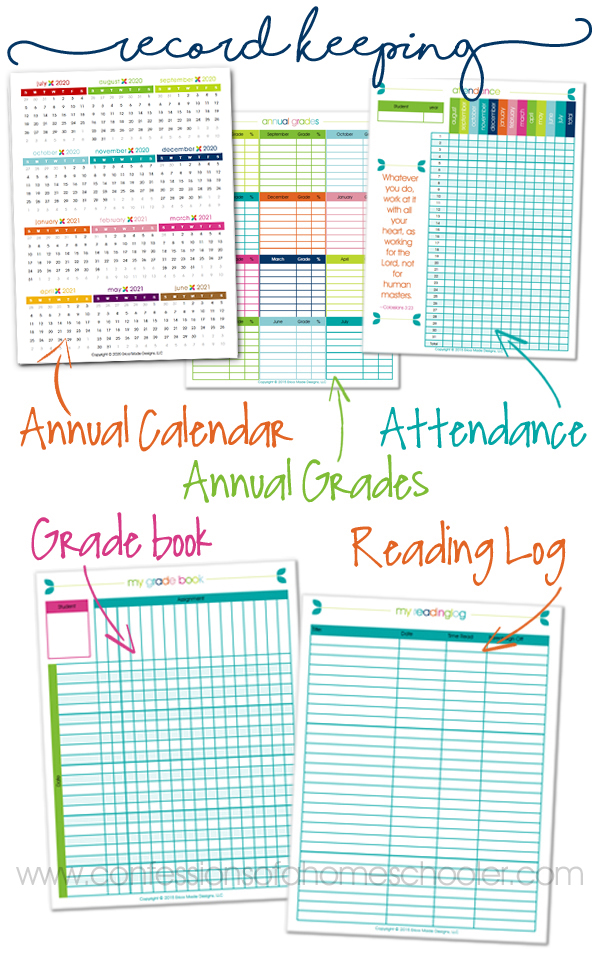 Planner runs from July 2020 – July 2021 and is pre-dated
2020-2021 year-at-a-glance pages 
Monthly overview pages 
Weekly planning pages 
Notes pages 
A reading log for each month 
Annual grade tracking pages 
Running grade tracking pages 
Attendance tracking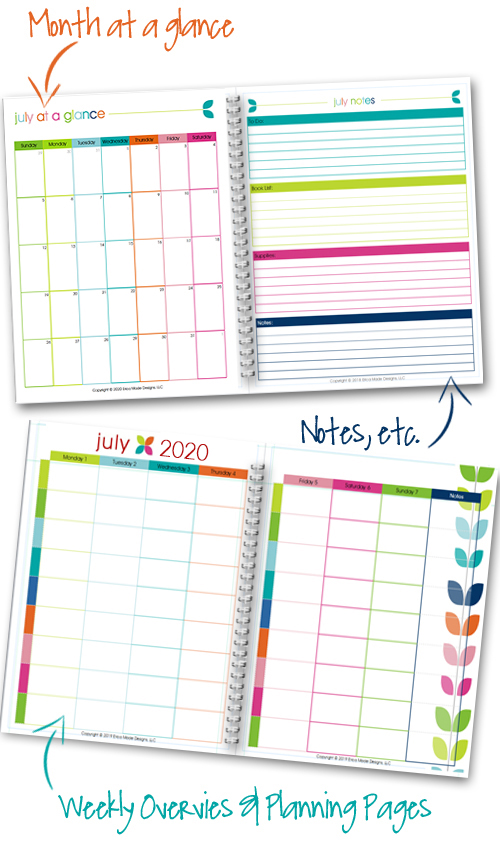 Extra Homeschooling Forms:
This planner also comes with a variety of forms to help you with your planning and record keeping. If there's a form I forgot, feel free to email me and I'll do my best to add one in! Most of these forms were created to go along with my Homeschooling 101: A Guide to Getting Started Book. Hopefully they're fairly self explanatory but you can use them however best suits your needs.
The Homeschooling forms include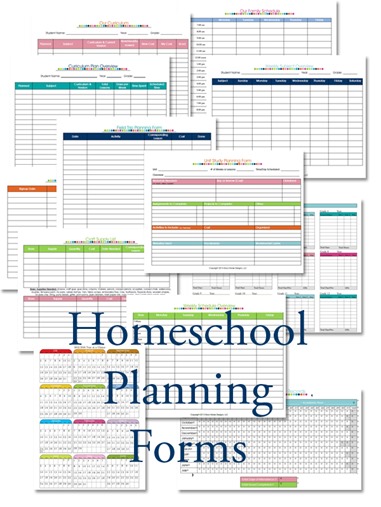 Grade Book Record Keeping 
Homeschooling Vision Statement 
Notice of Intent to Homeschool 
Household Rules Chart (There are a couple versions of this, one partially filled in and one blank.) 
Behavior & Discipline Chart 
Our Family Schedule 
Our Commitment Worksheet 
Our Curriculum 
Curriculum Plan Overview 
Weekly Subject overview 
Weekly Schedule Overview 
Our Book List 
My Reading Log 
Planned Field Trips 
Extra-curricular Activities 
Craft Supply List 
Homeschool Supply Shopping List 
Photocopies Needed List 
Unit Study Planner 
Preschool Assessment Form 
kindergarten Assessment Form 
Sight Word Assessment Form (Covers Primer – 3rd Grade) 
Homeschool Attendance Records 
Homeschool Long Term Grade Records 
Super Mom vs. Abiding Mom Printable 
Blank Planner Pages to customize 
Printing Tips:
I suggest printing the planner double sided. Then I take mine to a local office supply store and had it spiral bound. It cost approximately $5.00 for the spiral, plastic cover, and backing. I also suggest printing it on a light weight cardstock or higher quality copy paper for durability and to prevent ink bleeding through the pages.
If your printer doesn't have double sided printing, you can simply print all of the odd pages, then flip and print the even pages on the back side. Just make sure you're pages are set up in the right order to print the correct pages on the backsides.
You can even print an extra one for your students if they prefer to work off of their own planner.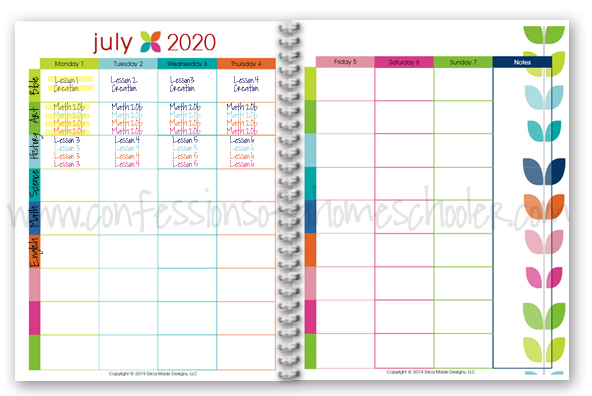 I use colorful Frixion erasable pens to start planning! The dates are already dated along the top of each page, all you have to do is fill in the subjects down the left hand column. Next add in your lessons!
I like to use different colored pens for each of my children. As you proceed through your lessons, highlight the completed items so you know that they are finished.
This super fun planner is available right now! And you are more than welcome to print extra copies for yourself or your children, so you do not need to purchase one planner per person. Yay for sharing!
Get the 2020-2021 Lesson Planner here!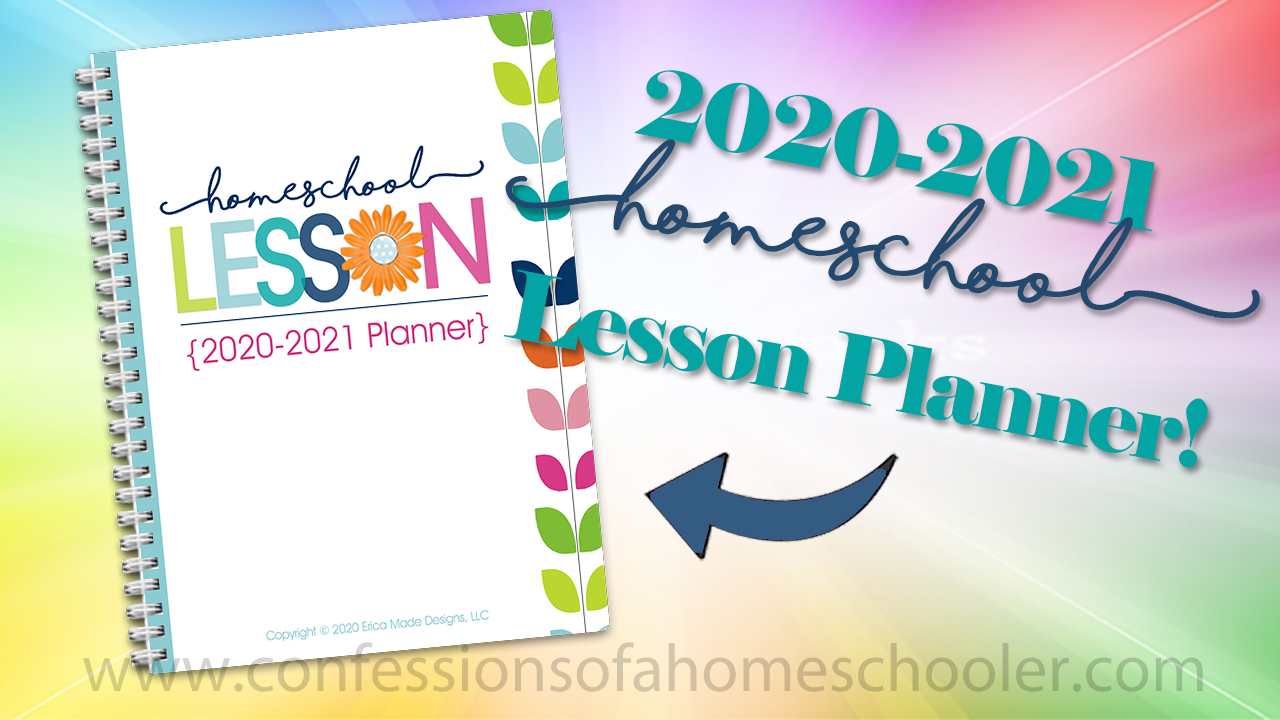 PLEASE NOTE: This item is currently only available as a PDF download. It is a printable planner and is not editable online at this time.
The post 2020-2021 Homeschool Lesson Planner PDF appeared first on Confessions of a Homeschooler.